Camp Cherokee is a family oriented fishing camp on the north shore of Rice Lake. We offer 12 housekeeping cabins, all with three-piece bathrooms with showers and full kitchens, including fridge, stove, freezer, coffee maker and microwave.
A restaurant and convenience store is right next door, and if you want to do some serious shopping, the City of Peterborough is just 15 minutes away.
Camp Cherokee features a large picnic shelter with gas grills, fish-cleaning huts, and we even have an automatic fish-scaler.
Rice Lake is a fisherman's paradise, 22 miles long and three miles wide at the widest point (where Camp Cherokee is located). It has an abundance of panfish, which in turn support healthy populations of pickerel (walleye), bass and muskie. There are also some very large carp.
Immediately east of Camp Cherokee are the remains of a railway bridge built in the mid-nineteenth century. The bridge lasted only a few years before it was destroyed by shifting ice during the spring break-up, but the rock pilings built a century and a half ago remain, providing an ideal fish habitat.
Take a look around our website, and if you're interested, please contact us for more information and reservations.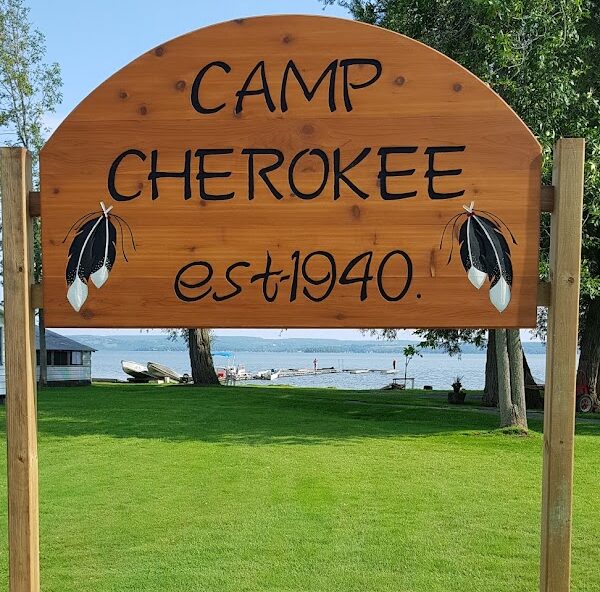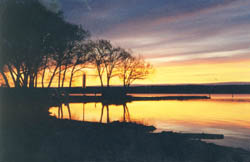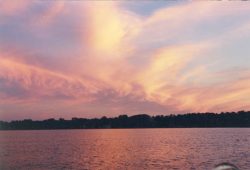 Camp Cherokee is 3rd generation family owned and operated by Ben, Carrie, Colton, and Emma Loucks.
A seven day restaurant with gas pumps and convenience store is right next door.
We have a coin-operated laundry on site.
Located on the north shore of beautiful Rice Lake, part of the Trent-Severn Waterway.
All our cabins are fully equipped with electric heat, fridge, stove, freezer for your catch, coffee maker, microwave.
We're open from early May to mid-October.
We offer boat and motor rentals.
Bring your own sheets, blankets, towels, and toiletries. We provide the rest.
A good sand beach.
All cabins have three-piece bathrooms with showers.
Fish cleaning houses with an automatic scale remover.
Lots of docking space.
There's lots to see and do
If you get tired of fishing, here are just a few of the many attractions the area has to offer:
The Peterborough MusicFest offers free concerts all through the summer.
Get a close up view of pioneer life at Lang Pioneer Village, just a few minutes away.
Over 600 canoes and kayaks are on display at the Canadian Canoe Museum in Peterborough.
The Peterborough Lift Lock is the highest hydraulic lift lock in the world.
Try your luck at the slots at Kawartha Downs or Shoreline Casino. 
If you're a golfer, there are several well-maintained courses close by.
These are just a few of the attractions in the area. You'll also find craft centres, museums, art galleries, theatre, movies and much more.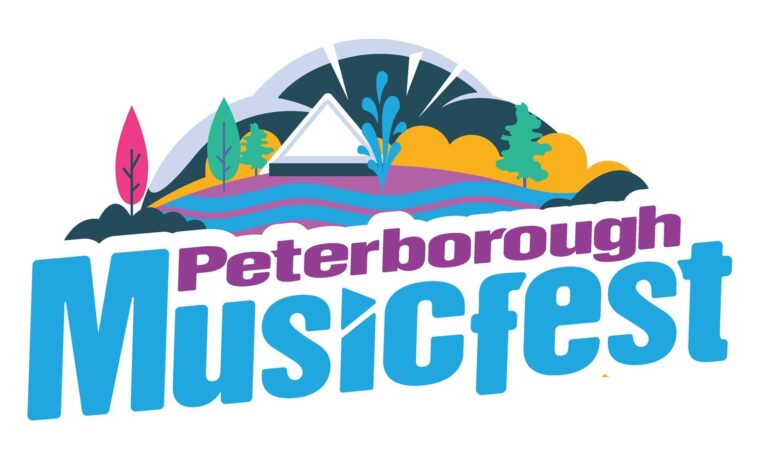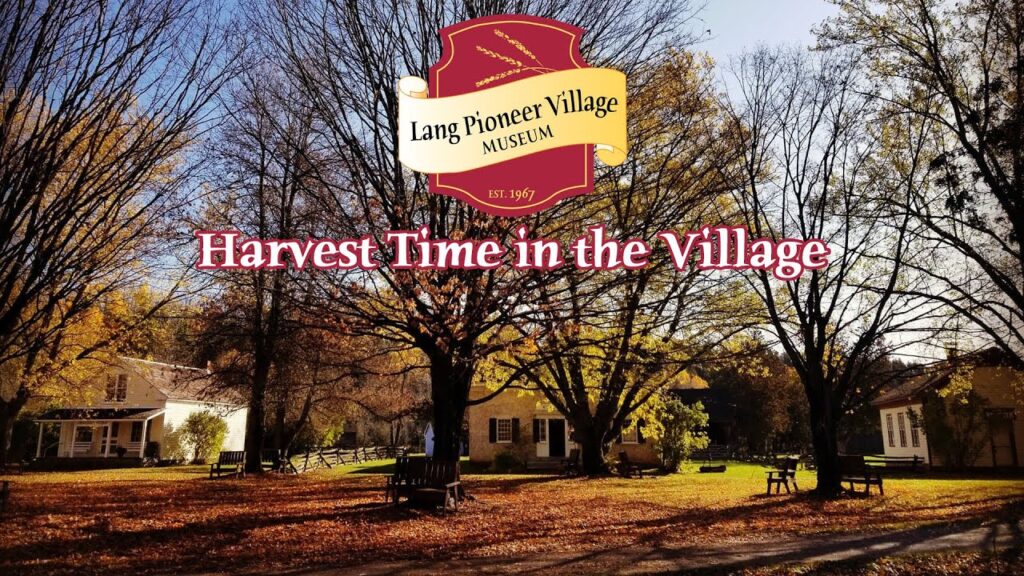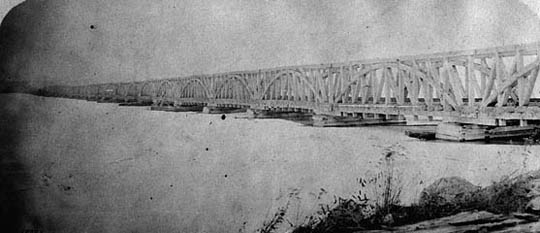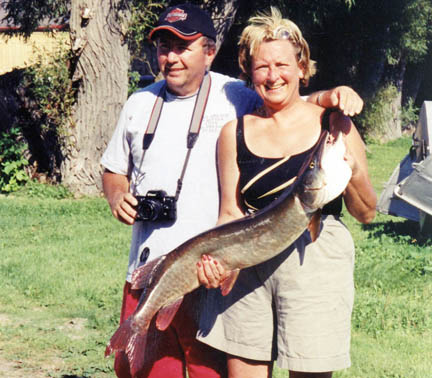 Fishing at Camp Cherokee on Rice Lake
Rice Lake is home to some of the best pan fishing in the world. And Camp Cherokee's location, right by the abandoned railway bridge which spanned the lake for a few years in the mid-19th century, is the best of the best.
The bridge formally opened in 1854; it was destroyed in the winter of 1861-62 by shifting ice.
What the ice didn't destroy was the numerous stone pilings which supported the bridge. Those submerged stone piles make a perfect fish habitat, and the ideal place for you to try your luck.
Rice Lake's pan fish population also supports some bigger fish; we've got pickerel (walleye), smallmouth and largemouth bass, and muskie.
So whatever you're after, you have a good chance of hooking it in Rice Lake. Why not give it a try!
Fishing regulations and licences can be found at huntandfishontario.com (Rice Lake is Zone 17)